SILLY PUTTY
Tanzperformance
2010

* nominiert für den Kölner Tanztheaterpreis 2010
* Benennung von Jessica Düster in der Kritikerumfrage der Theaterzeitung AKT zum "besten Tanzstück" der Theatersaison 2010/2011
* ausgewählt als eine der besten Theaterproduktionen 2010 in die Stadtrevue Jahrescharts





"Silly Putty" konkretisiert ein Experiment: die Idee der Perfektionierung der menschlichen Existenzweise durch beharrliches Optimieren und Rationalisieren aller Lebensbereiche. Zusehends bewegen sich die Menschen als massenkonforme Akteure in einem auf Ökonomie und Effizienz getrimmten Kollektiv, das die Forderung nach Individualität zu Gunsten des konsenses der Gemeinschaft ausblendet.

Das utopische Ziel der ultra-homogenen Lebensweise fordert ihr Gegenbild heraus: den Weg in eine nicht-vorhersehbare Wunderwelt aus Alchemie und Mystik.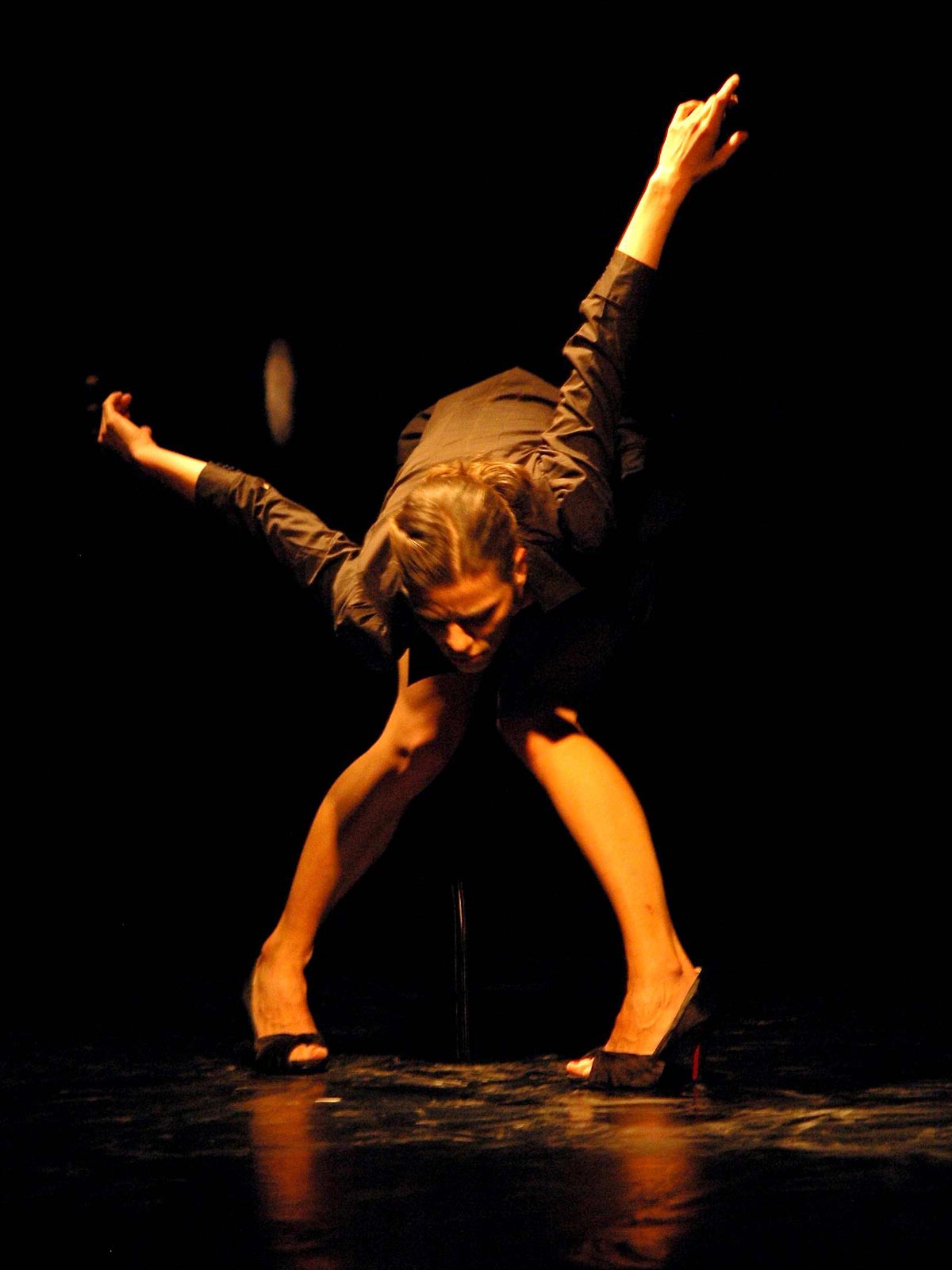 "Es ist ein aufregendes, ungewöhnliches Bewegungsrepertoire, das da in der kathedralenartigen Halle der Wachsfabrik zu sehen ist. […] Eine atmosphärisch Dichte, rätselhafte Reise in die Zukunft, die vielleicht schon gestern war. Sehenswert."

Dorothea Marcus, AKT.17, November 2010
"Eine beeindruckend konsequente Demontage femininer Idealität, in deren strenge Ästhetik die Ironie lauert."

Nicole Strecker, beste Theaterproduktion 2010, StadtRevue
Konzept: Yoshie Shibahara & POGOensemble
Choreographie, Tanz: Dilan Ercenk, Denise Temme, Tessa Temme ,Yoshie Shibahara, Sachie Tanaka
Licht, Ton-Technik: Wolfgang Pütz & Philipp Sander
Graphic Design: Ronny Heimann
Assistenz: Deren Ercenk
Foto: Wolfgang Weimer
Video Dokumentation: Tessa Knapp


Premiere: 01. Oktober 2010, Kunstzentrum Wachsfabrik Köln

Eine Produktion von Yoshie Shibahara und dem POGOensemble.

Gefördert durch: Stadt Köln, Ministerium für Familie, Kinder, Jugend, Kultur und Sport des Landes Nordrhein Westfalen SK-Stiftung Kultur, NRW Landesbüro Freie Kultur, Kunstsalon Stiftung, Japan Fundation.
Freundliche Unterstützung von: Barnes Crossing und das Institut für Tanz und Bewegungskultur des DSHS Köln.


english

SILLY PUTTY
Dance performance
2010

* nominated for the Cologne Dance Theatre Prize 2010
* In the critics' survey of the theater newspaper AKT Jessica Düster names SILLY PUTTY the »best dance piece« of the theater season 2010/2011
* selected as one of the best theatrical productions in 2010 in the city revue year chart




Yoshie Shibahara and POGOensemble fused their choreographical efforts for »Silly Putty« . In this »stringent production, where irony lurks within a strict aesthetic« (Kölner Stadt Anzeiger), they give form to an experiment: the perfection of human existence through persistent optimizing and rationalizing of every aspect of life.

More and more, people move as mass-compliant players in a collective geared for economy and efficiency, shutting out the demand for individuality in favour of the consensus of community. The utopian goal of an ultra-homogenous way of life provokes its opposite: The road into an unpredictable wonder world of alchemy and mysticism.


»It's an exciting, unusual movement repertoire that can be seen in the cathedral-like hall of the wax factory. [...] An atmospherically dense, enigmatic journey into the future that may have been yesterday. Worth seeing.«

Dorothea Marcus, AKT.17, 2010
Concept: Yoshie Shibahara & POGOensemble
Choreography, Dance: Dilan Ercenk, Denise Temme, Tessa Temme ,Yoshie Shibahara, Sachie Tanaka
Lighting, Sound technik: Wolfgang Pütz & Philipp Sander
Graphic Design: Ronny Heimann
Assistance: Deren Ercenk
Photo: Wolfgang Weimer
Video documentation: Tessa Knapp


Premiere: October 1, 2010, Kunstzentrum Wachsfabrik, Cologne

A production by Yoshie Shibahara & the POGOensemble.

Funded by City of Cologne, Ministry of Family, Children, Youth, Culture and Sport of North Rhine-Westphalia, SK Foundation Culture, NRW State Office of Free Culture, Art Foundation, Japan Fundation.
Supported by Barnes Crossing and the Institute for Dance and Movement Culture of the DSHS Cologne.