Karyatiden
Tanz
2006

* gewann den zweiten Platz beim Internationalen Choreographen Wettbewerb in Ludwigshafen 2006
* nominiert für den Kölner Tanztheaterpreis 2006





Karyatiden ist eine fesselnde Fusion von Sound, Licht, Bewegung, Tanz und Mystik. Ein meditatives Werk, dass durch seinen klaren Ausdruck, sein hoch konzentriertes Zusammenspiel und seine Tiefe in den Bann zieht.

Ausgehend von Gebärden weiblicher Statuen, sogenanannter Karyatiden, wird das Archaische in Körpersprachen unserer modernen Welt übersetzt und durch Bewegung auf unser digitales Zeitalter projeziert.

Die Geste, der Körperausdruck und die Mimik sind Teil archaischer Phänomene der Menschen. Sie werden aufgegriffen, als universale Formen variiert und in neue Kontexte gebracht. "Karyatiden" ist getanzte Ikonographie.


"Yoshie Shibahara und Sachie Tanaka agieren völlig zurückgenommen, […]sie wirken graziös und anonym. Faszinierend gelingt es Yoshie Shibahara mit Eliminierung aller schauspielerischen Ansätze, den Körper mit diesen dezenten, aber sehr wirkungsvollen Gesten wieder bewusst zu machen."

Thomas Linden, Kölnische Rundschau, 09.02.06
"Kein Fingerzucken ist unkalkuliert in dieser formbewussten und hochkontrollierten Performance. Ein faszinierendes Tanzstück - beeindruckend in seiner Konsequenz, provokant in seinem Purismus."

Nicole Strecker, Kölner Stadt-Anzeiger, 07.02.06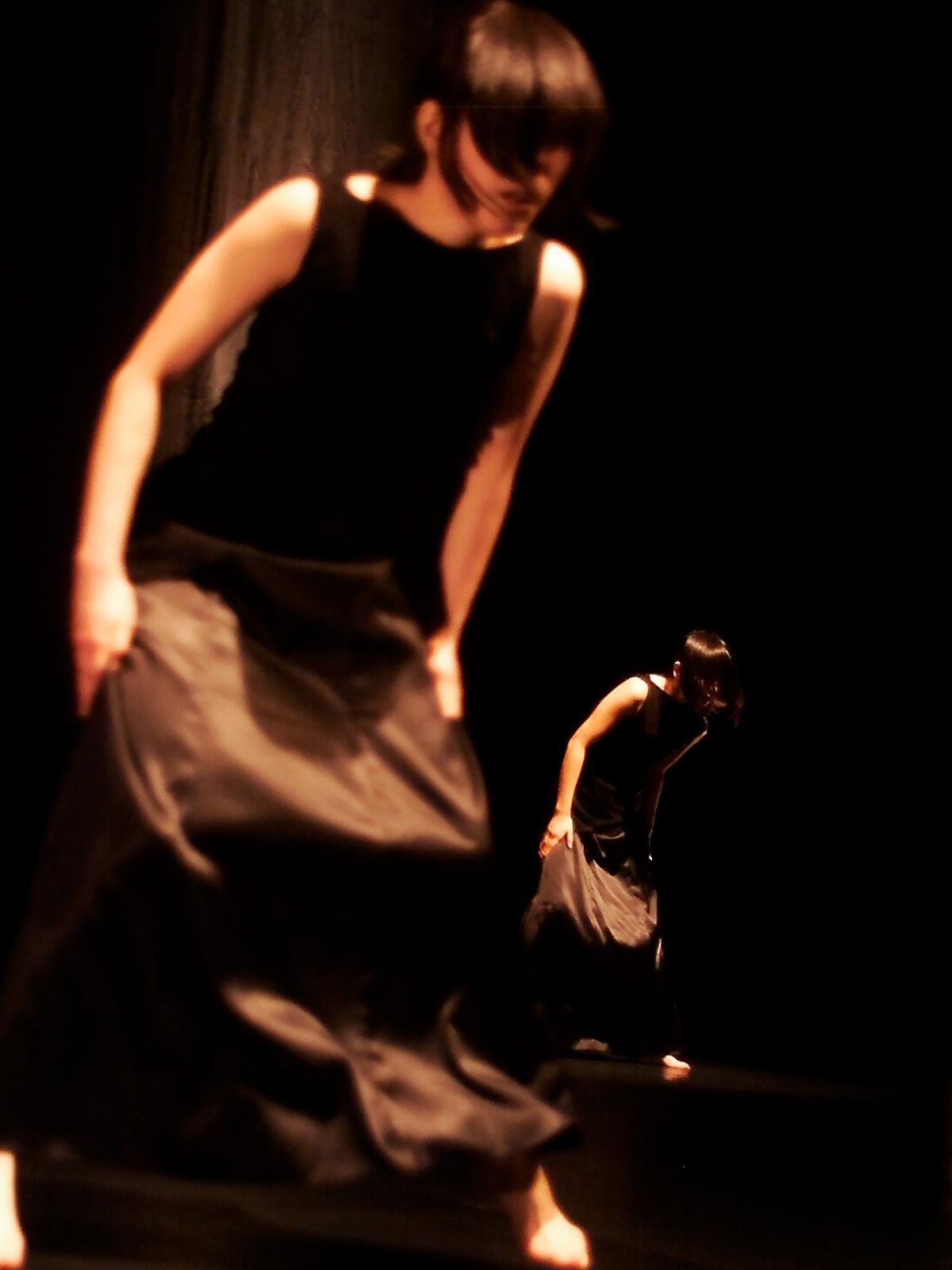 Konzept, Choreographie, Licht- und Klangkonzept: Yoshie Shibahara
Tanz: Sachie Tanaka, Yoshie Shibahara
Komposition, Sounddesign: Jacob Kirkegaard
Technische Leitung, Licht: Wolfgang Pütz


Premiere: 3. Februar 2006, Alte Feuerwache Köln

Eine Produktion von Yoshie Shibahara.

Gefördert durch: Goethe Institut, Kunststiftung NRW, SK Stiftung Kultur, Fonds Darstellende Künste e.V. Unterstützung von: Choreographische Werkstatt des Elementaren Tanzes e.V. und Institut für Tanz und Bewegungskultur der DSHS Köln


english

Karyatiden
Dance
2006

* won second place at the International Choreography Competition in Ludwigshafen 2006
* nominated for the Cologne Dance Theatre Award 2006




Karyatiden is a captivating fusion of sound, light, movement, dance and mysticism. A meditative work that captivates with its clear expression, its highly concentrated interplay and its depth.

Based on gestures of female statues, so-called caryatides, the archaic is translated into body languages of our modern world and projected by movement to our digital age.

Gesture, body expression and facial expressions are part of archaic phenomena of humans. They are taken up, varied as universal forms and brought into new contexts.

»Karyatiden« is danced iconography.


»Yoshie Shibahara and Sachie Tanaka act completely withdrawn, [...] they seem graceful and anonymous. Fascinatingly, Yoshie Shibahara succeeds in making the body aware of these subtle but very effective gestures by eliminating all acting approaches.«

Thomas Linden, Kölnische Rundschau, February 9, 2006
»No finger twitching is uncalculated in this form-conscious and highly controlled performance. A fascinating dance piece - impressive in its consequence, provocative in its purism.«

Nicole Strecker, Kölner Stadt-Anzeiger, February 7, 2006
Concept, choreography, light & sound Concept: Yoshie Shibahara
Dance: Sachie Tanaka, Yoshie Shibahara
Composition, sound design: Jacob Kirkegaard
Technical Director, light: Wolfgang Pütz


Premiere: February 3, 2006, Alte Feuerwache Cologne

A production by Yoshie Shibahara.

Funded by: Goethe Institut, Kunststiftung NRW, SK Stiftung Kultur, Fonds Performing Arts e.V. Support of: Choreographic Workshop of Elementary Dance e.V. and Institute for Dance and Movement Culture of DSHS Cologne