Fringe
Rauminstallation und Performance
2014
Ein Raum kann innen größer sein, als es von außen erscheint, hinter den Türen liegt manchmal eine andere, gewaltige Realität.

Fringe bedeutet Einfassung, Rand, Randgebiet, Grenzbereich, abseitig und grenzwertig. Beim Betreten oder Verlassen eines Raumes passiert man eine Grenze/ Tür. Die Tür trennt einen Raum vom Anderen ab und verbindet gleichzeitig die Räume. Sie ist Grenzgebiet, Schwelle und Übergangsraum.

Wer wird an meine Haustür klopfen?
Tür auf, Gegrüßt seist du
Tür zu, Laß mich in Ruh
Die Welt pulst jenseits meiner Tür

Les Amusements Naturel von Pierre-Albert Birot


"Nichts funktioniert hier nach den anerkennten Regeln des allgemeinen Umgangs mit Dingen. Die reale Welt wird zum Vexierspiel, bei dem etwas Bestimmtes gezeigt, aber etwas anders gemeint ist. […] Es sind sinnlich wirkende Bewegungen ohne erkennbaren Sinn, die auf eine subtile Rekonstruktion der sichtbaren Realität gerichtet sind. […] ein großartiges Environments der Nachdenklichkeit, das zum Blick hinter die Dinge auffordert. Mit subtilem Humor kreiert sie eine geradezu kafkaeske Welt volle absurder Verrichtungen. "Fringe" ist hohe Installationskunst und große performative Praxis."

Klaus Keil, AKT. 52
"Hier gibt es nichts zu entschlüsseln, nur die geduldige Konzentration ist gefordert, mit der man durch eine konturlose Welt reist, die eben noch wie ein Aquarium anmutet und dann mit ihren Projektionen an einen Himmel erinnert, in den die Vögel scharenweise aufsteigen. […] Hier entspricht es einer Erfahrung poetischer Fremdheit, die erlebt, aber nicht verstanden werden will."

Thomas Linden, Kölnische Rundschau
Konzept, Szenografie, Installation, Performance: Yoshie Shibahara
Komposition, Sounddesign, Optik: Achim Mohné
Licht, Technik: Wolfgang Pütz
Assistenz: Ryutaro Mimura
Graphik: Uta Kopp
Foto: Achim Mohné, Kirsten Glauner
Video Dokumentation: Kirsten Glauner


Premiere: 07. März 2014, Theater Orangerie im Volksgarten Köln
2014 Theaterfestival FAVORITEN, ehem. Museum am Ostwall, Dortmund

Eine Produktion von Yoshie Shibahara

Gefördert durch das Kulturamt der Stadt Köln, das Ministerium für Familie, Kinder, Jugend, Kultur und Sport des Landes Nordrhein Westfalen und das NRW Landesbüro Freie Kultur.


english

Fringe
Installation and performance
2014
A room can be larger inside than it appears from the outside, behind the doors there is sometimes another, enormous reality.

Fringe means enclosure, edge, border area, boundary area, offside, borderline. When entering or leaving a room, you cross a border/door. The door separates one room from the other and at the same time connects the rooms. It is border area, threshold and transitional space.

At the door of the house who will come knocking?
An open door, we enter
A closed door, a den
The world pulse beats beyond my door

Les Amusements Naturel von Pierre-Albert Birot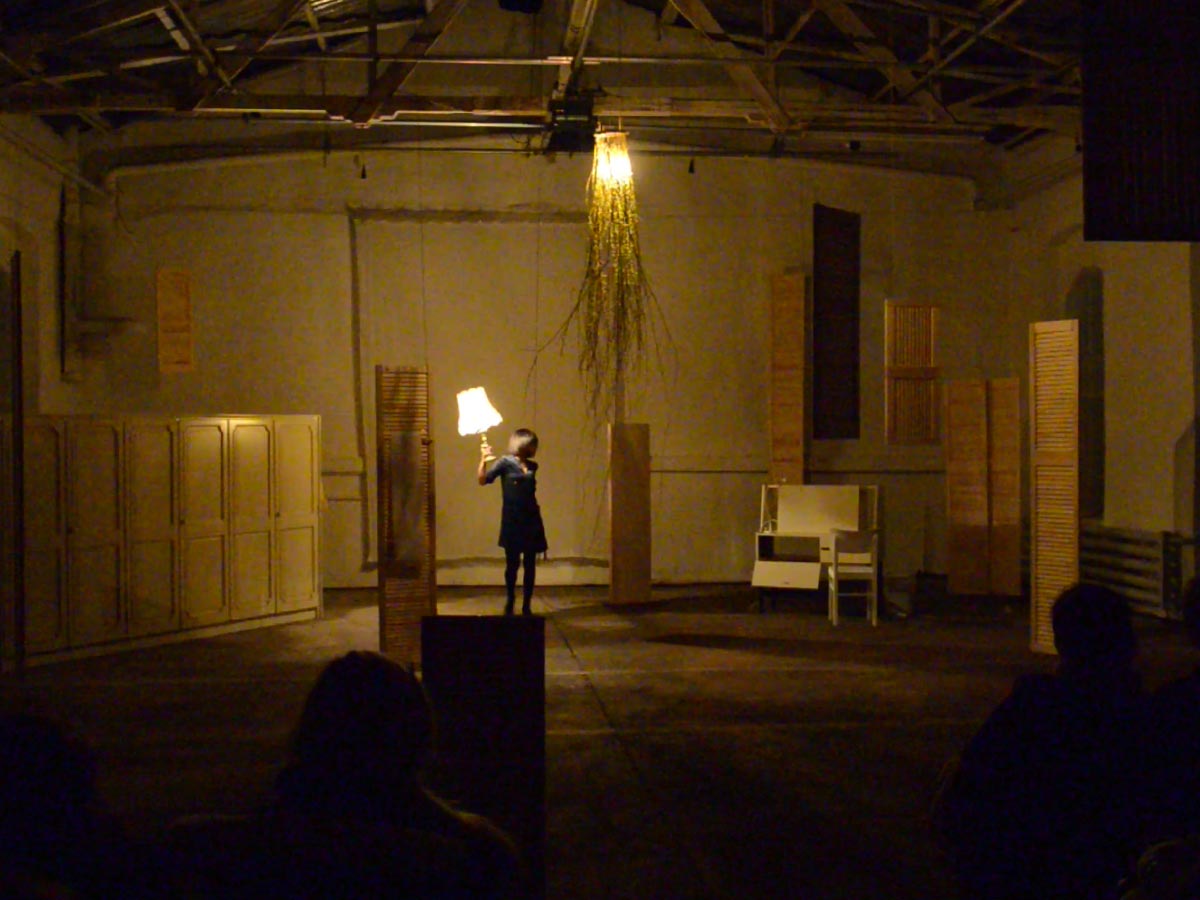 »Nothing works here according to the recognized rules of general handling of things. The real world becomes a game of vexing, in which something specific is shown, but something is meant differently. [...] They are sensual movements with no discernible meaning, which are directed towards a subtle reconstruction of visible reality. [...] a great environment of thoughtfulness that invites you to look behind things.«

Klaus Keil, AKT. 52
»There is nothing to decipher here, only the patient concentration is required, with which one travels through a contourless world, which still looks like an aquarium and then with its projections reminds of a sky into which the birds ascend in droves. [...] Here it corresponds to an experience of poetic strangeness that is experienced but does not want to be understood.«

Thomas Linden, Kölnische Rundschau
Concept, installation, scenography, performance: Yoshie Shibahara
Composition, sound design, optics: Achim Mohné
Light, technical: Wolfgang Pütz
Assistance: Ryutaro Mimura
Graphic design: Uta Kopp
Photo: Achim Mohné, Kirsten Glauner
Video documentation: Kirsten Glauner


Premiere: 7 March 2014, Theater Orangerie im Volksgarten Cologne
2014 Theaterfestival FAVORITEN, former Museum am Ostwall, Dortmund

A production by Yoshie Shibahara,

Funded by the Cultural Office of the City of Cologne, the Ministry of Family, Children, Youth, Culture and Sport of the State of North Rhine Westphalia and the NRW State Office of Free Culture.