EXUVIAE – heimArt Edition
Rauminstallation und Performance / Ausstellung
2013
Exuviae sind abgelegte Häute von Tier oder Reptilien. Sie sind Reststück eines Gestaltwandel- und Entwicklungsprozesses. Der Raum wird sich in eine Art Zuchtfarm verwandeln, die verlassen wirkt. Übrig geblieben ist nur eine Fülle von Hüllen menschlicher Wesen. Der Raum bildet einen Container, gefüllt mit "Inhaltslosigkeit" und "Leere".

Da EXUVIAE immer auf den Raum / Ort bezogen arbeitet, wurde auch die Architekturen der stillgelegte Ishibashi-Brauerei und der ehemaligen Uno Grundschule als abgelegte Hülle in der Performance interpretiert. Für das stillgelegte Brauerei und die Hauptgebäude der ehemaligen Grundschule hat Shibahara vor Ort die Objekte und Bewegungsmaterialien gesammelt und der Medienkünstler Ryutaro Mimura hat lokale Field Recordings in die Performance eingebunden.

EXUVIAE wurde sowohl im Aufführungsformat als auch im Ausstellungsformat variiert präsentiert.


Konzept, Skulpturen, Performance: Yoshie Shibahara
Field-Recording, Sound: Ryutaro Mimura
Licht, technische Unterstützung: Yutaka Kadomoto
Öffentlichkeitsarbeit, Organisation: Yosuke Sakai
Foto: Hajime Fukuma, Ryutaro Mimura

31. Juli 2013, heim Art Festival 2013, ehem. Uno Grundschule, Hamada/ Japan
3. August 2013, heimArt Festival 2013, ehem. Ishibasi Brauerei, Hirata/ Japan

Eine Produktion von Yoshie Shibahara.

Kooperation: heimArt Festival Shimane

Gefördert durch das Kulturamt der Stadt Köln und Foundation of Shimane Prefecture.


english

EXUVIAE – heimArt Edition
Installation and performance / exhibition
2013
Exuviae are discarded hides from animals or reptiles. They are a remnant of a transformation and development process. The room will turn into a kind of breeding farm that looks abandoned. All that remains is an abundance of shells of human beings. The room forms a container filled with "lack of content" and "emptiness".

Since EXUVIAE always works in relation to the space / place, the architecture of the disused Ishibashi brewery and the former Uno elementary school was also interpreted as a discarded shell in the performance. For the disused brewery and the main buildings of the former elementary school, Shibahara collected the objects and materials on site and the media artist Ryutaro Mimura has integrated local field recordings into the performance.

EXUVIAE was presented in a variety of formats, both performance and exhibition.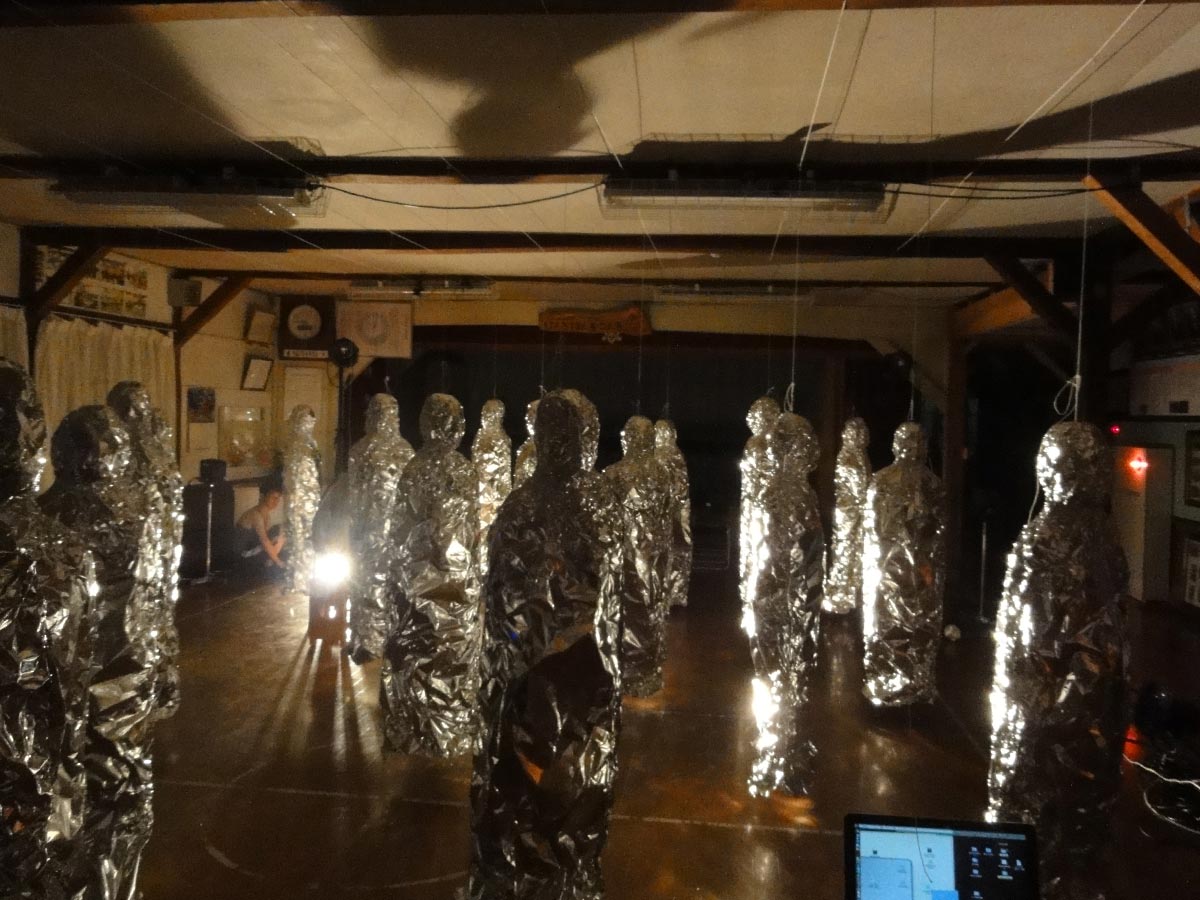 Concept, sculptures, performance: Yoshie Shibahara
Field recording, sound: Ryutaro Mimura
Light, technical support: Yutaka Kadomoto
Public relation, organisation: Yosuke Sakai
Photo: Hajime Fukuma, Ryutaro Mimura

31 July 2013, heimArt Festival 2013, former Uno primary school, Hamada/ Japan
03 August 2013, heimArt festival 2013, former Ishibasi brewery, Hirata/ Japan

A production of Yoshie Shibahara.

In cooperation with HeimArt festival Shimane.

Funded by the Cultural Office of the City of Cologne, the Culture Foundation of Shimane Prefecture.