Timeslices
Audiovisuelle Echtzeitkomposition
2012
Drei Künstler aus verschiedenen Sparten treffen sich zu einer intuitiven Bild- und Klangkomposition. Den Rahmen hierfür bildet eine Medieninstallation mit einer dreifachen Videoprojektion. Im Raum befinden sich die Performerin Yoshie Shibahara, der Musiker Achim Mohné und der Medienkünstler Egbert Mittelstädt. Sie sind miteinander vernetzt.

Die Grundlage für die Bildwelten sind Fragmente von Panoramaaufnahmen und Videosequenzen, die unmittelbar vor der Performance am Ort selbst erstellt wurden. Egbert Mittelstädt ist in der Lage, die zeitliche und räumliche Abfolge der fotografischen Elemente live zu kontrollieren sowie alle weiteren Faktoren wie Helligkeit, Farbe, Mischungsverhältnisse etc. in Echtzeit zu steuern. Yoshie Shibahara nimmt diese Bilder als Bühne für ihre Improvisationen und ist so in der Lage, sich virtuell in den Räumen zu bewegen. Eine Videokamera zeichnet diese Bewegungen auf und lässt diese Live-Bilder wieder in die Komposition auf den drei Projektoren einfließen. Achim Mohné kreiert durch seine Klangwelt eine Basis für die Bewegung der Performerin, kann aber auch verschiedene Aspekte der Bildkompositionen wie z.B. Geschwindigkeit und Rhythmus der Bildabfolge direkt beeinflussen.

Dieser Prozess lässt ein sich ständig veränderndes, fotographisches Bild entstehen, das mit den Bewegungen der Performerin und den Klangwelten zu einer Einheit verschmilzt. Eine audiovisuelle "Echtzeitkomposition".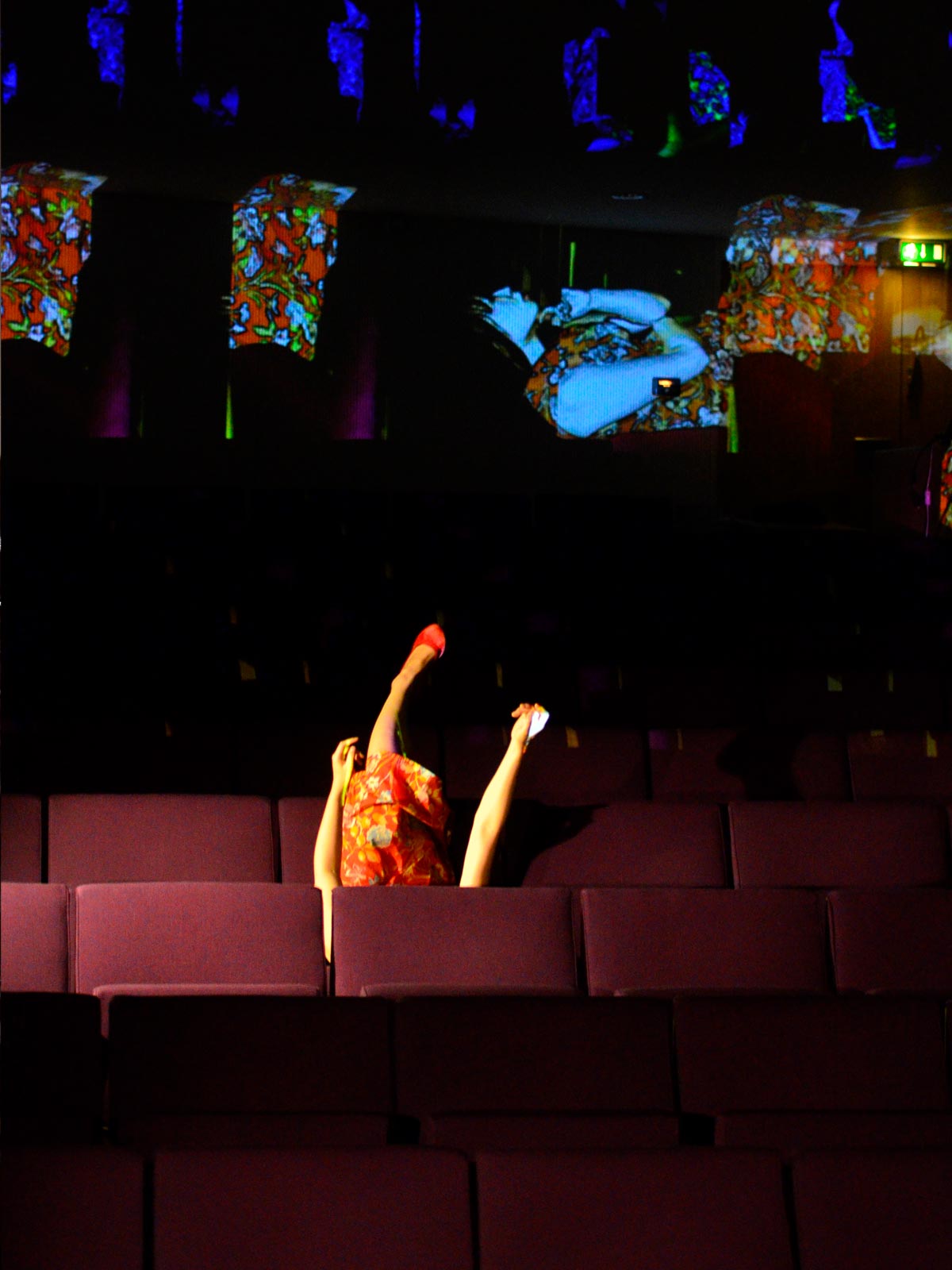 "Ein kunstvolles Spiel mit einer überraschenden Farbigkeit und Grazie gelingt dem Trio. Zeit und Form werden im Verlauf der Performance aufgehoben. Ein Erlebnis, das Malerei, Tanz und Musik zugleich herausfordert und subtil unser Verständnis von Bildkompositionen in Frage stellt."

Thomas Linden, Kölnische Rundschau
Konzept, Visuelle Raum: Egbert Mittelstädt
Musik, Sound: Achim Mohné
Performance: Yoshie Shibahara
Foto: Wolfgang Weimer
Video Dokumentation: Kirsten Glauener


Premiere: 6. November 2012, Japanisches Kultur Institut, Köln

Eine Produktion von peʀiˈskoːp.
In Kooperation mit dem Japanischen Kulturinstitut Köln
Gefördert durch das Kulturamt der Stadt Köln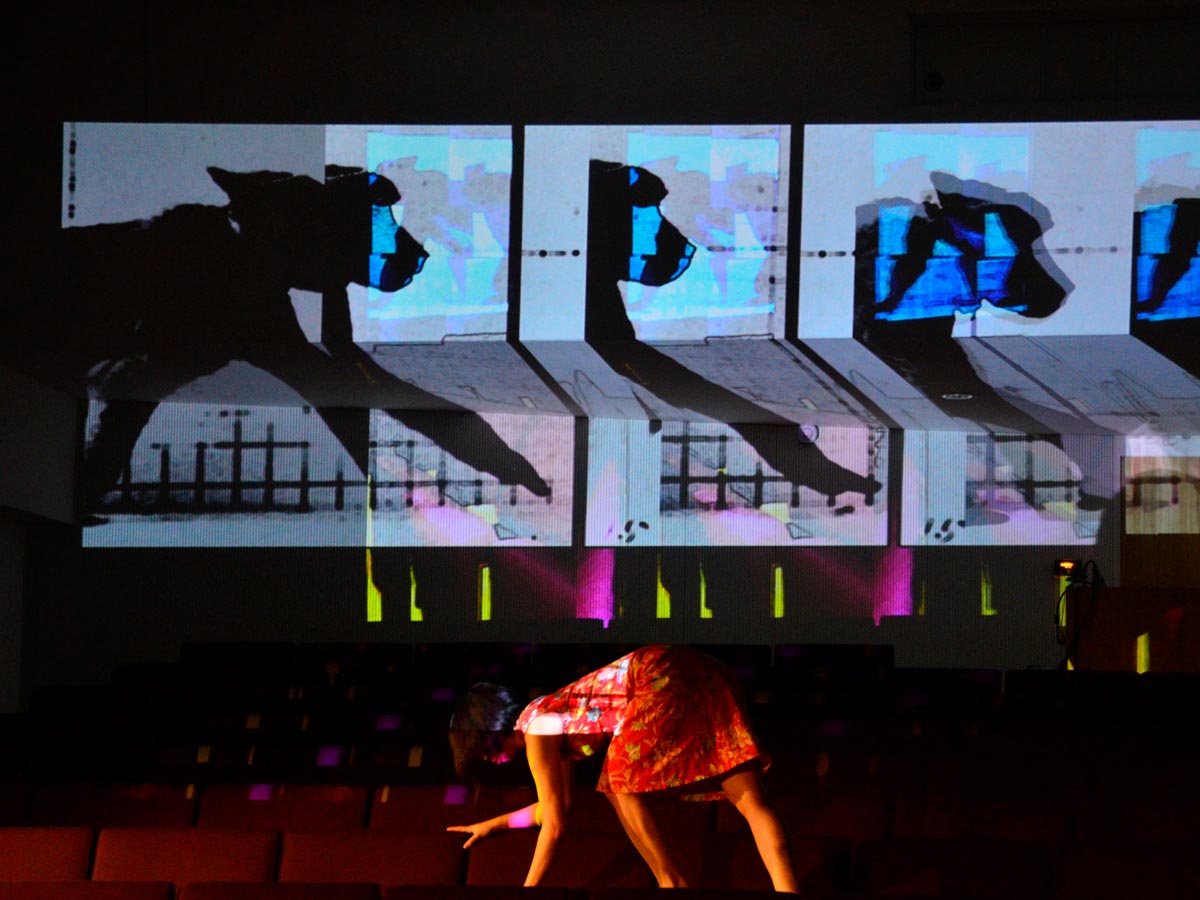 english
Timeslices
Audiovisual real-time composition
2012
For Timeslices, performer Yoshie Shibahara, musician Achim Mohné and media artist Egbert Mittelstädt come together for an intuitive composition of images and sound. The framework for their performance is provided by a CineChamber media installation with a triple video projection.

The basis of Mittelstädt´s world of images are fragments of panorama photographs of the location from the performance venue. By means of his own software patch, he is able to control the spatial and time sequence of the photographic elements in real time. Shibahara takes these images as the stage for her improvisations. With his world of sound, Mohné creates a basis for the performer´s movements.

This process creates a continuously changing photographic image, which merges with the movements of the performer and the sound world to form a unity, an audiovisual "real-time composition.


»The trio succeeds in an artful game with a surprising colorfulness and grace. Time and form are removed during the performance. An experience that simultaneously challenges painting, dance and music and subtly challenges our understanding of image compositions.«

Thomas Linden, Kölnische Rundschau
Concept, media artwork: Egbert Mittelstädt
Music, sound: Achim Mohné
Performance: Yoshie Shibahara
Photo: Wolfgang Weimer
Video dokumentation: Kirsten Glauener


Premiere: November 6, 2012, Japanisches Kultur Institut, Cologne

A production of peʀiˈskoːp.
in co-operation with the Japanese Cultural Institute Cologne
Funded by the Kulturamt der Stadt Köln