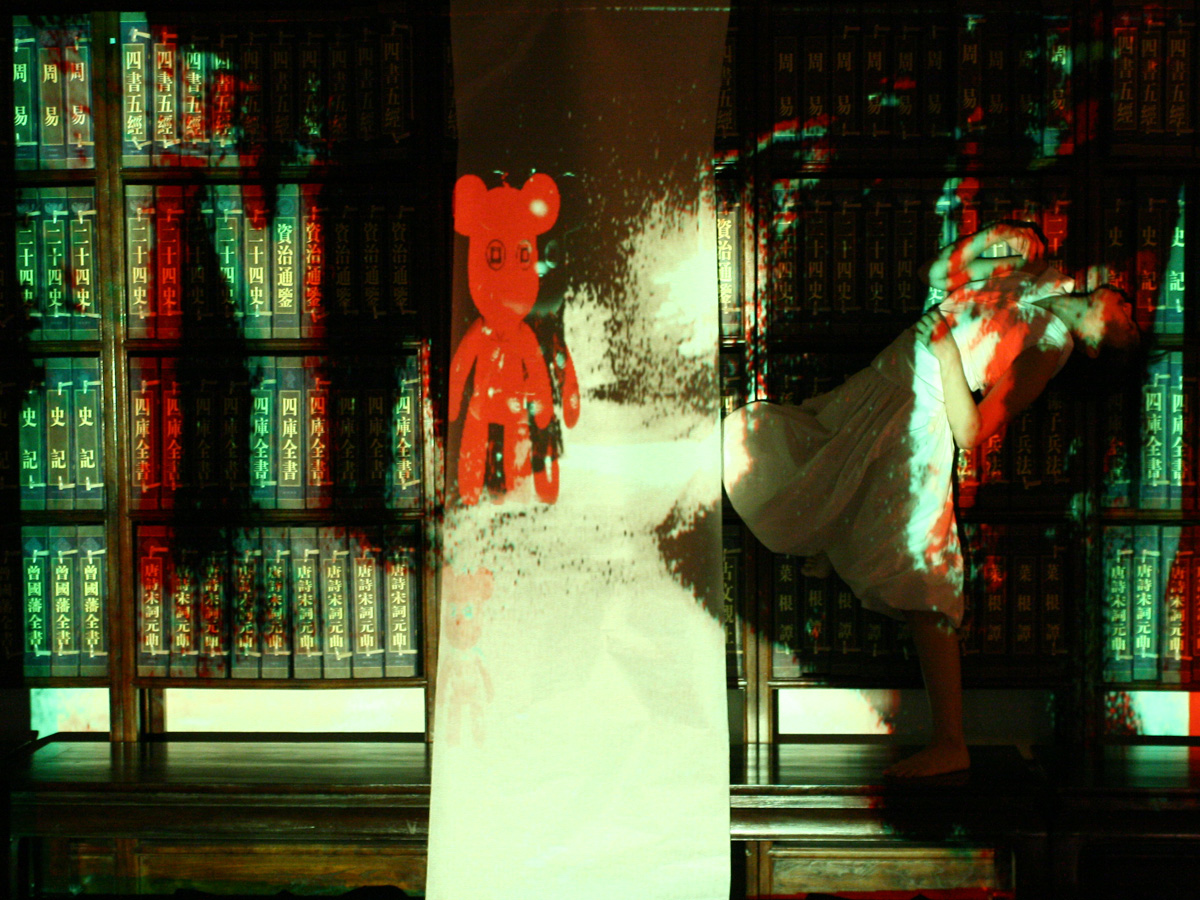 once i switch off the electric light
Intermedial Performance, Installation & Live Musik
2010
Speziell für den Raum der Stadtgalerie wird in mehreren Tagen vor Ort eine Idee umgesetzt: Die Medienkünstlerin Echo Ho präsentiert eine Installationen aus Lichtlinsen unter Einbeziehung der Fenster des Veranstaltungsraumes, richtet für selbstgebaute sowie traditionelle chinesische Instrumente Spielstationen ein.

Was im klanglichen Kontrast zwischen Echo Ho und dem Geschwindigkeitsrausch der Turntable-Impro von DJ Sniff gespielt wird, setzt die ausdrucksstarkeTänzerin und Choreographin Yoshie Shibahara in Tanzimprovisationen um, alle Drei versuchen, ihre Ausdrucksform zu finden, die Worte übertrifft. Es erwartet Sie ein Nachmittag mit kurzen Stücken, für ausgewählte Fenster, ausdrucksstarken Bild- und Klangwelten, aber auch reduziert, sodass ein kleiner Handknick ganz groß wirkt.

Zu Gast das Duo tapestry assemblage: die Japanerin Yoshie Shibahara und die Chinesin Echo Ho. Ihr Gast wiederum ist der Japaner Takuro Mizuta Lippit (DJ Sniff), Künstlerischer Direktor des STEIM/Amsterdam, der mit erstaunlicher Fingerfertigkeit "sein Instrument" Plattenspieler und Computermischpult bearbeitet.


tapestry assemblage featuring DJ Sniff
Yoshie SHIBAHARA (Köln) / Tanzimprovisation
Echo HO (Köln) / Live-Elektronik / Performance / Installation
Takuro Mizuta Lippit / DJ SNIF (Amsterdam) / Turntables


7. November 2010, Stadtgalerie Saarbrücken / St. Johanner Markt 24
in der Reihe "grenzgänger", kuratiert von Georg Dietzler


english
once i switch off the electric light
Intermedia performance, installation & live music
2010
Especially for the space of the city gallery, an idea will be implemented in several days on site: the media artist Echo Ho presents an installation made of light lenses including the windows of the function room, setting up playing stations for home-made also traditional Chinese instruments. What is played in the sonic contrast between Echo Ho and the speed rush of DJ Sniff's turntable improv is turned into dance improvisations by the expressive dancer and choreographer Yoshie Shibahara, all three trying to find their form of expression that surpasses words. An afternoon of short pieces, for selected windows, expressive image and sound worlds, but also reduced, so that a small hand bend looks quite large. Guest of the duo tapestry assemblage: the Japanese Yoshie Shibahara and the Chinese Echo Ho. Her guest, on the other hand, is the Japanese Takuro Mizuta Lippit (DJ Sniff), artistic director of STEIM/Amsterdam, who works with astonishing dexterity "his instrument" turntable and computer mixing console.


tapestry assemblage featuring DJ Sniff
Yoshie SHIBAHARA (Cologne) / Dance improvisation
Echo HO (Cologne) / Live-Electronics / Performance / Installation
Takuro Mizuta Lippit / DJ SNIF (Amsterdam) / Turntables


November 7, 2010, Stadtgalerie Saarbrücken
in the series "grenzgänger", curated by Georg Dietzler