images volubiles
Intermedial Tanzperformance
2008


* nominiert für den Kölner Theaterpreis 2009





In dem Stück wurde der runde Kirchenbau aufgegriffen und durch drei Projektionsräumen aus Kunststofffolien modifiziert. In diese Räume hinein werden Bildregie von Egbert Mittelstädt mit Bewegungsansichten der Tänzerin Yoshie Shibahara projiziert. Die Tänzerin taucht in die Projektionen ein und versucht, die Bilder wie ihre eigene Identität zu fassen. Die Choreographie reflektiert dabei drei Ebenen: das Sichtbare, das Verschleierte und das Verworfene.

Es entsteht eine Art Traumwelt und die Tänzerin nimmt das Publikum mit auf eine poetische Suche nach den flüchtigen Zerrbildern ihrer eigenen Identität.

Auch die Musik der Klangkünstler und Komponisten Frank Schulte und Matthias Mainz ist in diesen Kategorien inszeniert als direkter Klang im Raum und als verborgene Klangquelle.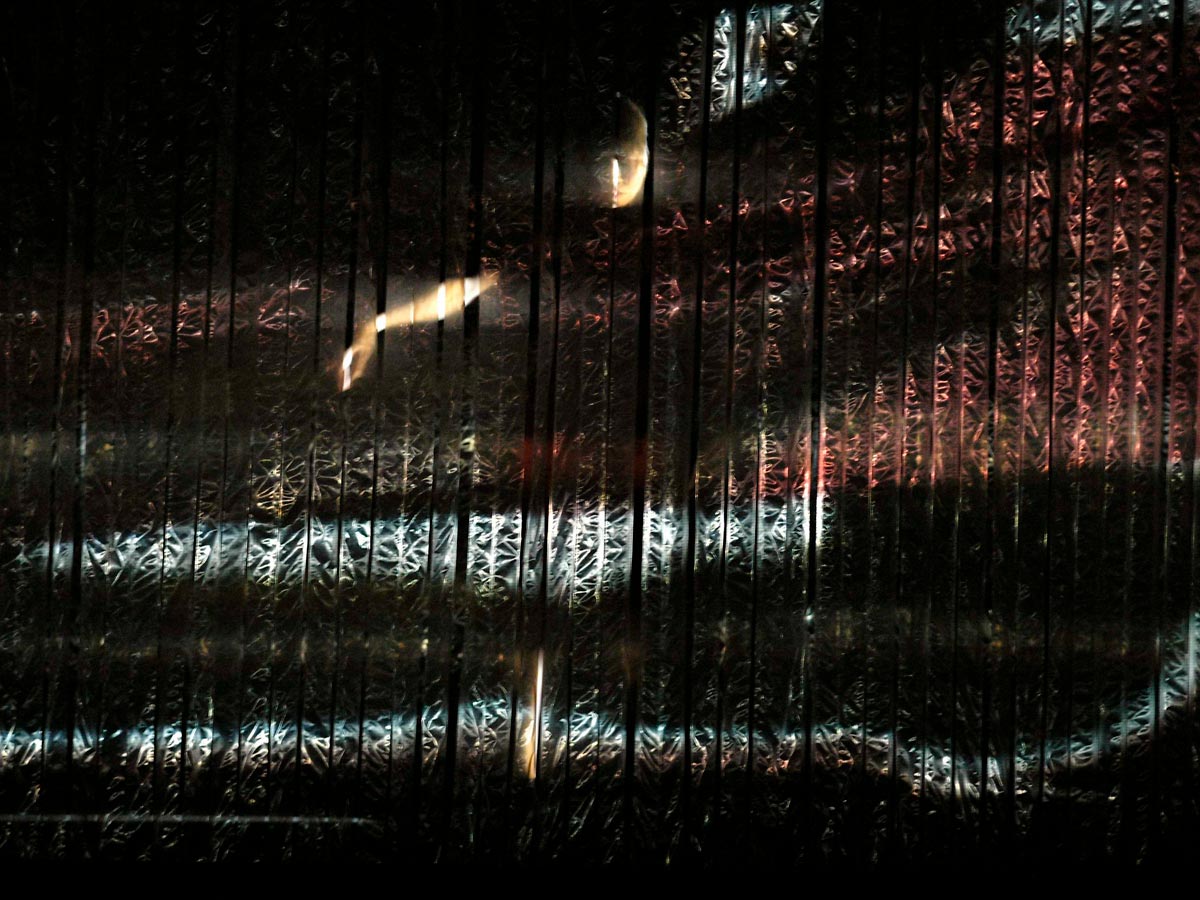 "Die Tänzerin und Choreografin Yoshie Shibahara taucht hinter silbrigen Folie-Fäden als Schemen auf wie eine Unterwasser- Nixe. Immer an der Grenze zur Unsichtbarkeit tanzt Shibahara, verwandelt sich auch dank der raffinierten Licht- und Videobild-Regie von Egbert Mittelstädt in geheimnisvolle Fantasiekreationen. Eine in allen Medien absolut überzeugende Arbeit, in der sich alles Materielle in purer ästhetischer Abstraktion sublimiert."

Nicole Strecker, 17.12.2008, Kölner Stadt-Anzeiger
"Dieses Auftauchen und Verschwinden ja mitunter fast Verwehen ihrer Konturen erinnert an flüchtige Märchengestallt, an einen Traum. … Mutig, wie hier mit reduzierten Mitteln agiert wird. So entstehet eine feinsinnige Installation, die Musik, Bild und Tanz wie ein Medium organisch verschmelzen lässt."

Thomas Linden, Kölnische Rundschau
Elektronische Komposition, Raumklang:
Frank Schulte
Trompete:
Matthias Mainz
Video, Bildregie, Installation:
Egbert Mittelstädt
Choreografie, Tanz, Installation:
Yoshie Shibahara
Öffentlichkeitsarbeit:
Alexandra Schmidt
Foto:
Wolfgang Weimer
Video
Premiere: 12. Dezember 2008, St. Theodor Kirche, Köln-Vingst

Gefördert durch: Stadt Köln, SK-Stiftung Kultur, Kunststiftung NRW
Unterstützung von Institut für Tanz und Bewegungskultur der DSHS Köln


english
images volubiles
Intermedia dance performance
2008


* nominated for the Cologne Theatre Prize 2009




In the piece, the round church building by the architect Paul Böhm designed St. Theodor is picked up and modified by three projection rooms made of plastic films. Into these rooms with motion views of the dancer Yoshie Shibahara are Projected. The dancer immerses herself in the projections and tries to grasp the images as her own identity. The choreography reflects three levels: the visible, the veiled and the discarded.

It creates a kind of dream world and the dancer takes the audience on a poetic search for the fleeting distorted images of her own identity. The music of the sound artists and composers Frank Schulte and Matthias Mainz is also staged in these categories as a direct sound in space and as a hidden sound source.


"The dancer and choreographer Yoshie Shibahara appears behind the silver foil threads as schemes like an underwater nix. Shibahara always dances on the border of invisibility, transforming into mysterious fantasy creations, thanks to the sophisticated light and video image direction of Egbert Mittelstädt. An absolutely convincing work in all media, in which everything material sublimated in pure aesthetic abstraction."

Nicole Strecker, Kölner Stadt-Anzeiger, December 17, 2008
»This appearance and disappearance is sometimes almost a blow to its contours, reminiscent of fleeting fairy tales, of a dream. ... Courageous how this is being used with reduced resources. Thus, a subtle installation that allows music, image and dance to merge organically like a medium.«

Thomas Linden, Kölnische Rundschau
electronic composition and room sound setup: Frank Schulte
trumpet: Matthias Mainz
video & scenographic video editing, installation: Egbert Mittelstädt
choreography, dance, installation: Yoshie Shibahara
public relations: Alexandra Schmidt
Photo: Wolfgang Weimer


Premiere: December 12, 2008, St. Theodor Church, Cologne - Vingst

Funded by City of Cologne, SK Foundation Culture, Art Foundation NRW.

Support from the Institute for Dance and Movement Culture of the DSHS Cologne